The Karhunkierros (in English, the Bear Circuit or Bear Trail) is Finland's most popular hiking trail, where thousands of people walk yearly. The 82 km long route is full of spectacular sights, hanging bridges, canyons, rapids, waterfalls, and lovely mires.
Where is the Karhunkierros trail?
The northern trailhead is in Hautajärvi, and the southern end of the hike is in the famous ski center, Ruka. The trail crosses the amazing Oulanka National Park full of remote canyons, hanging bridges, rapids, and cliffs.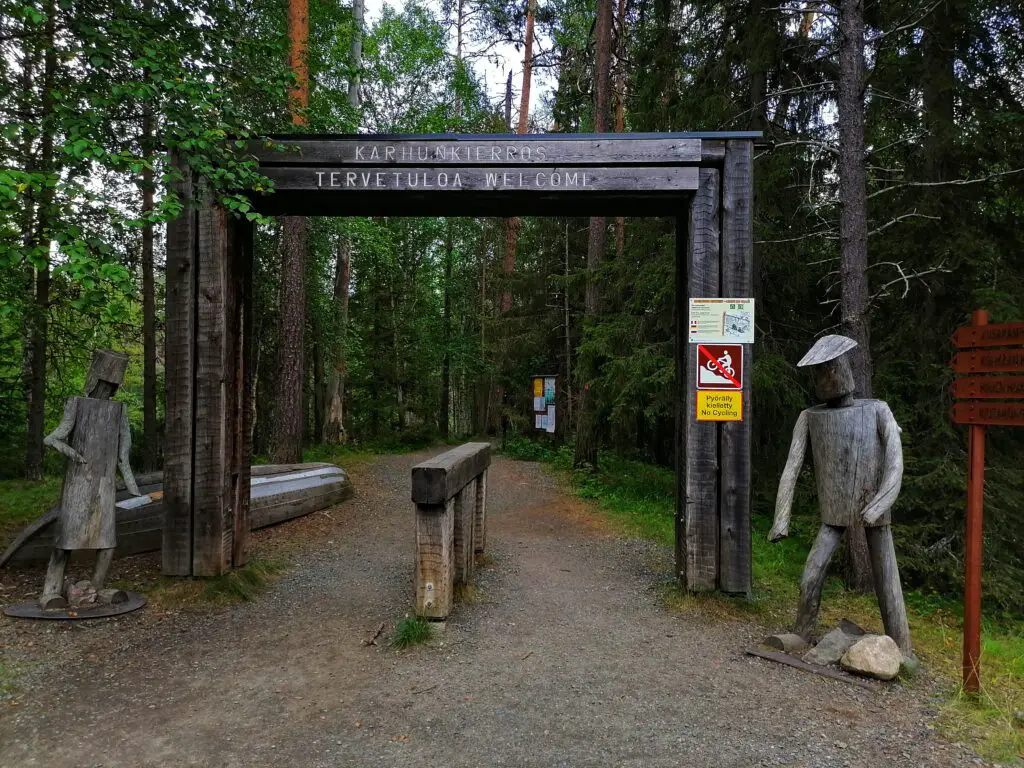 How long does it take to hike the Karhunkierros in Oulanka National Park?
It takes 3 to 7 days on average to complete the 82 km long hike.
I recently completed the trail in 72 hours, and I was walking on four calendar days. I would recommend you space it out a bit more if you are not accustomed to long-distance or multi-day hiking.
The Pieni Karhunkierros
Those who think this distance is too much can opt for the Pieni Karhunkierros (the Small Bear's Trail) that is only 12 km long and guides you through a couple of picturesque places on a half-day day-long hike.
It is a charming, family-friendly hike (we have been on it multiple times), so I highly recommend this too!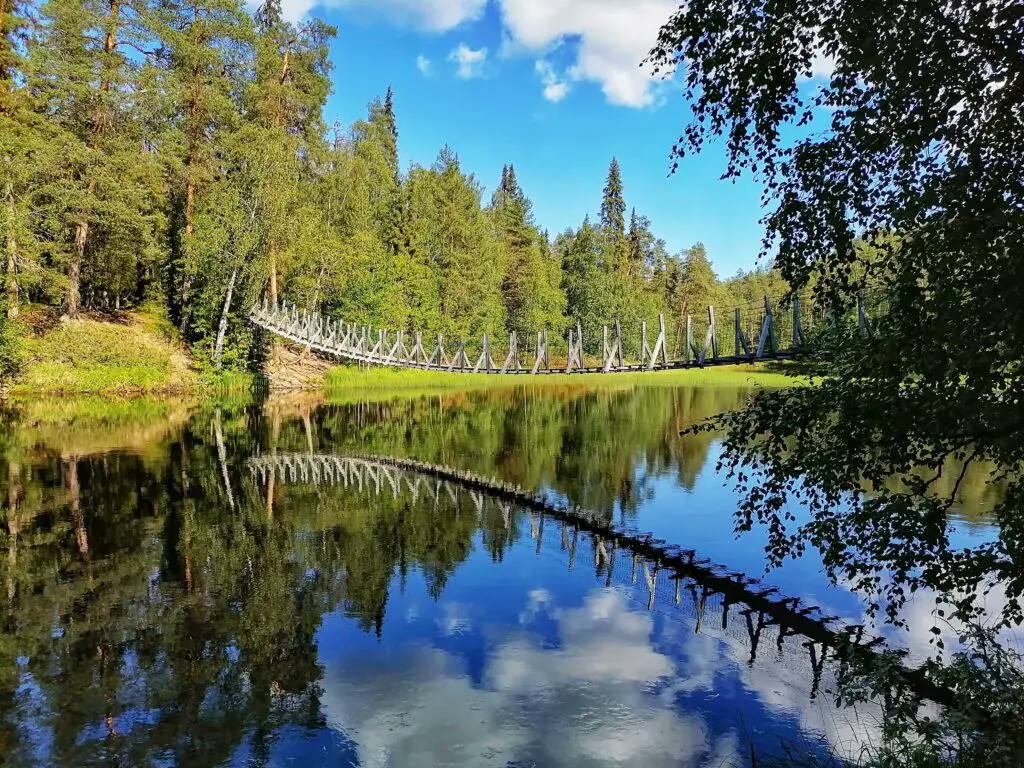 How to get to Oulanka National Park?
You have several options to go to the national park and the trailheads. Whether you decide to start from the south or the north, some buses and taxis are running between the trailheads (and other parts of the Karhunkierros) and Kuusamo, Ruka, and Salla.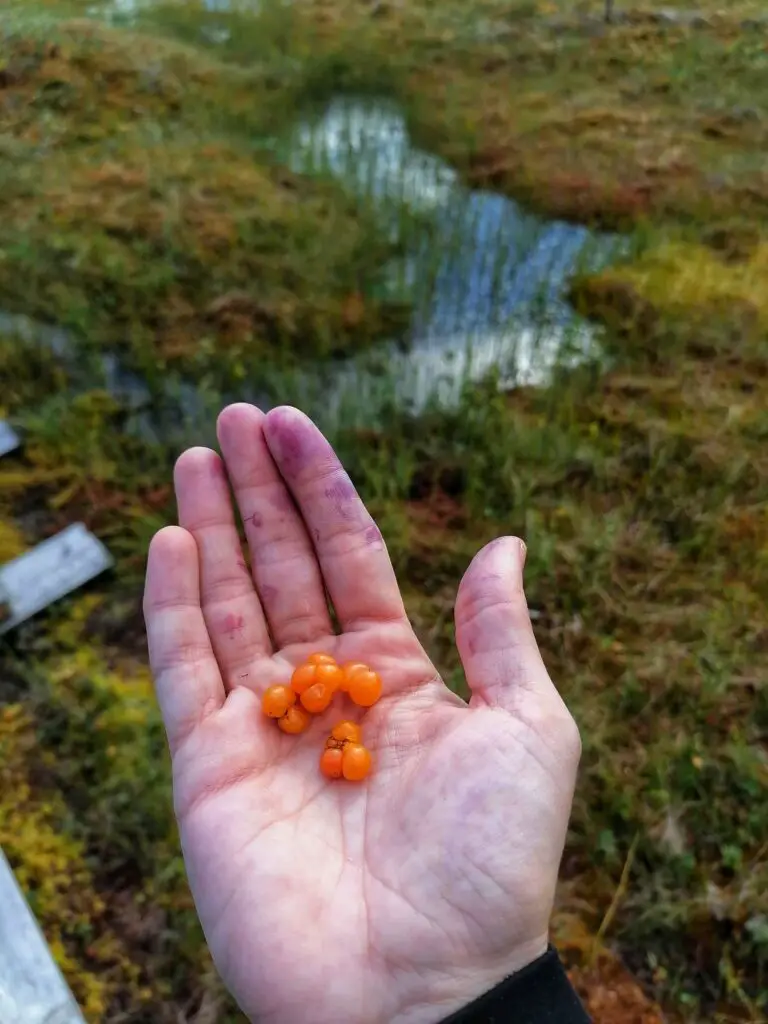 The Karhunkierros Bus
I decided to leave my car in Ruka and take the Karhunkierros bus to the nature center (Luontotalo) in Hautajärvi.
Make sure you check the bus timetables at ruka.fi or matkahuolto.fi (in the latter one you can buy bus tickets online as well, but you can pay directly at the bus too).
The bus runs at different frequencies throughout the summer and based on the days of the week.
I opted for this option, as it gave me the freedom to complete the hike at my own pace, without needed to be in a rush for a bus.
The adult bus ticket from Ruka to Hautajärvi costed 12€ (2021).
Karhunkierros Trail Map
You can get a copy of the general map of the Karhunkierros Trail at the National Park center and or tourist info points. If you need a map for navigation (although the trail is well marked), purchase one tourist map as well. This is only suitable for general planning.
Where to Overnight?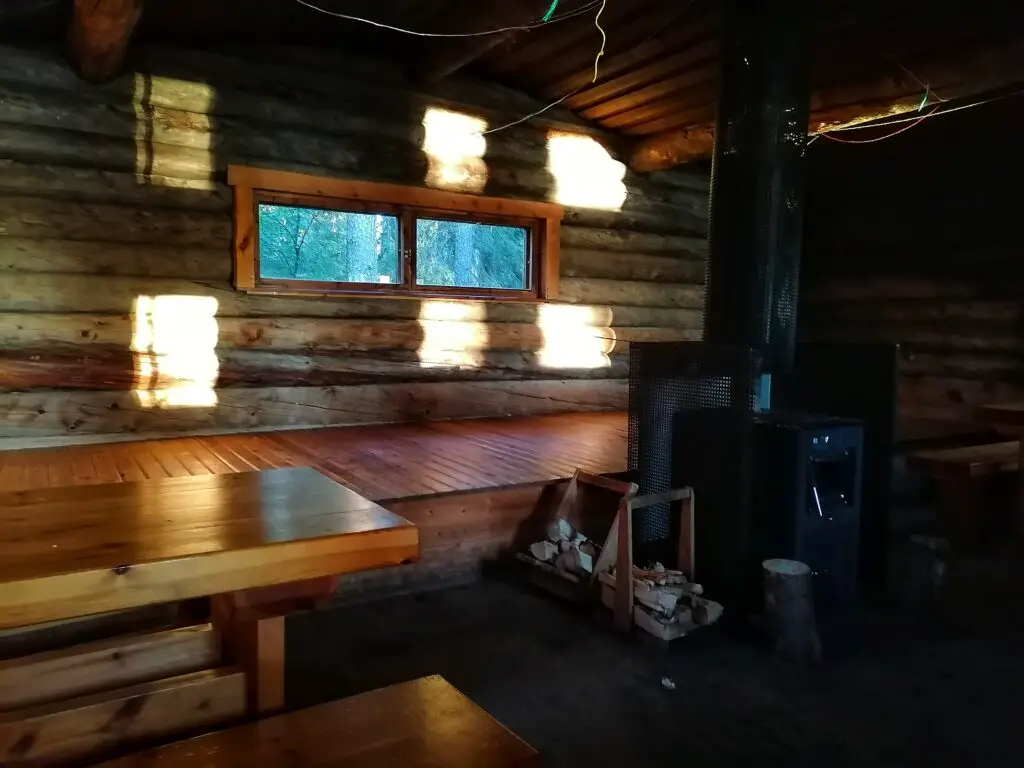 The trail has numerous open wilderness cabins and other half-closed shelters (lean-tos and Lappish huts) where you can stay using your own sleeping bag for free.
There is a possibility to make fire and cook in these places. The cabins can shelter 8 to 20 people.
You can also bring your own tent if you want bigger privacy. You can camp near these sites. It also gives you bigger freedom, but you will have extra weight to carry.
After or before your hike, you can stay in a comfortable cabin or hotel in Ruka while enjoying the views after a warm shower. My favorite place is Ruka is Scandic Rukahovi.
Day 1. Hautajärvi – Savilampi (15 km)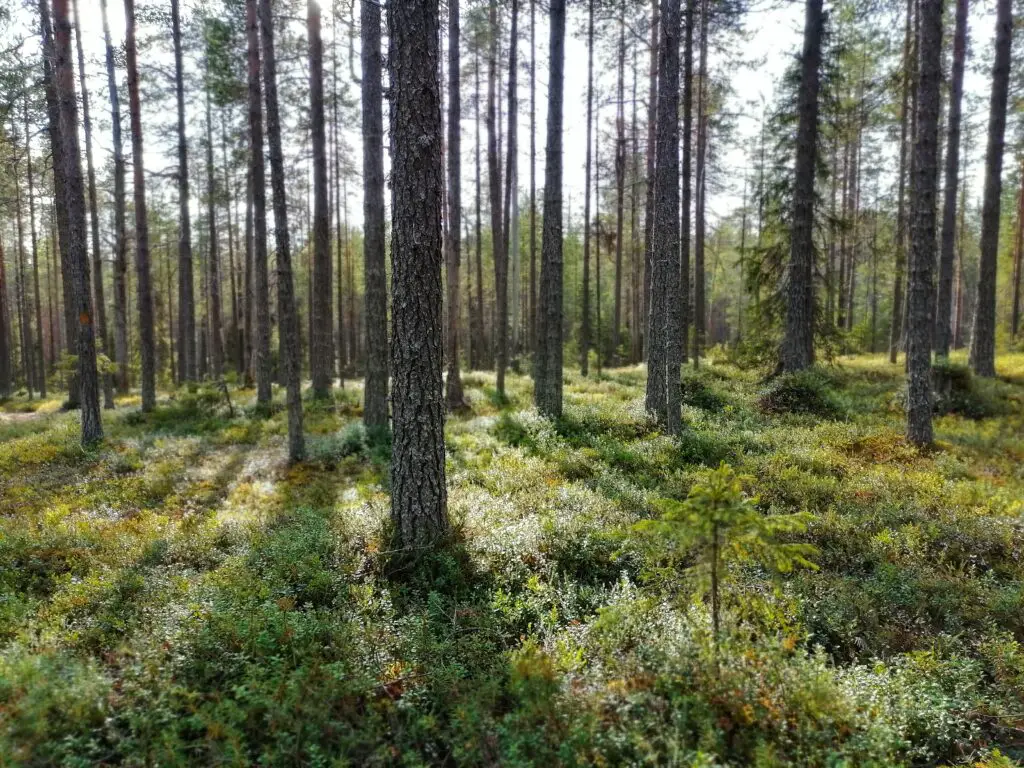 I arrived at Hautajärvi after 2 pm. I visited the Visitor Center to see one more time running water (the toilet is free to use for the customers of the little coffee place). You can also check the little exhibition before departing on this fantastic journey.
This part of the hike is flat and easy to walk. You will cross mires (I was still in time to pick a few cloudberries, yum!) and leads you through forests.
Rupakivi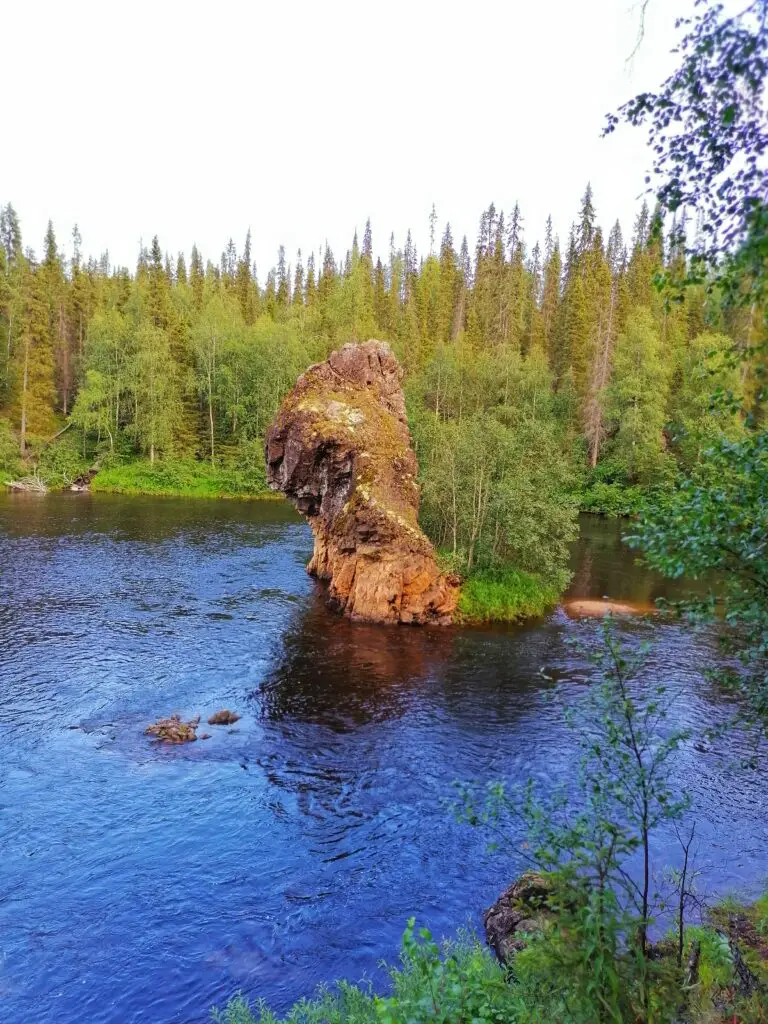 The most significant sight of this section is Rupakivi. You need to climb down the cliff to see this famous and unique rock, but it is definitely worth it!
In the evening, I have arrived at Saviampi Open Wilderness Hut. A place is suitable for ten people (we were only 6, so we had enough place 🙂 ).
Day 2. Savilampi – Jussinkämppä (28 km)
Oulanka Canyon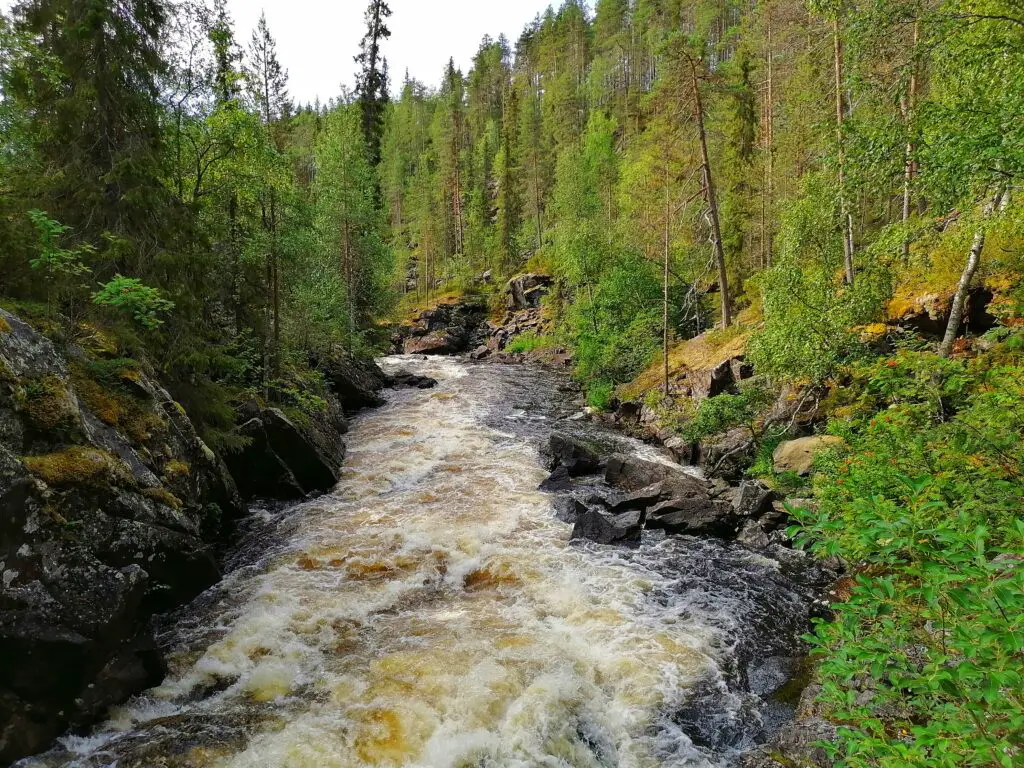 You can make a little detour from Savilampi to the spectacular Oulanka Canyon. I've made only the short trail (about 1.5 km in total), but if you have more time, walk the 6 km long round.
The views from the cliffs were excellent in the morning sun.
Taivalköngäs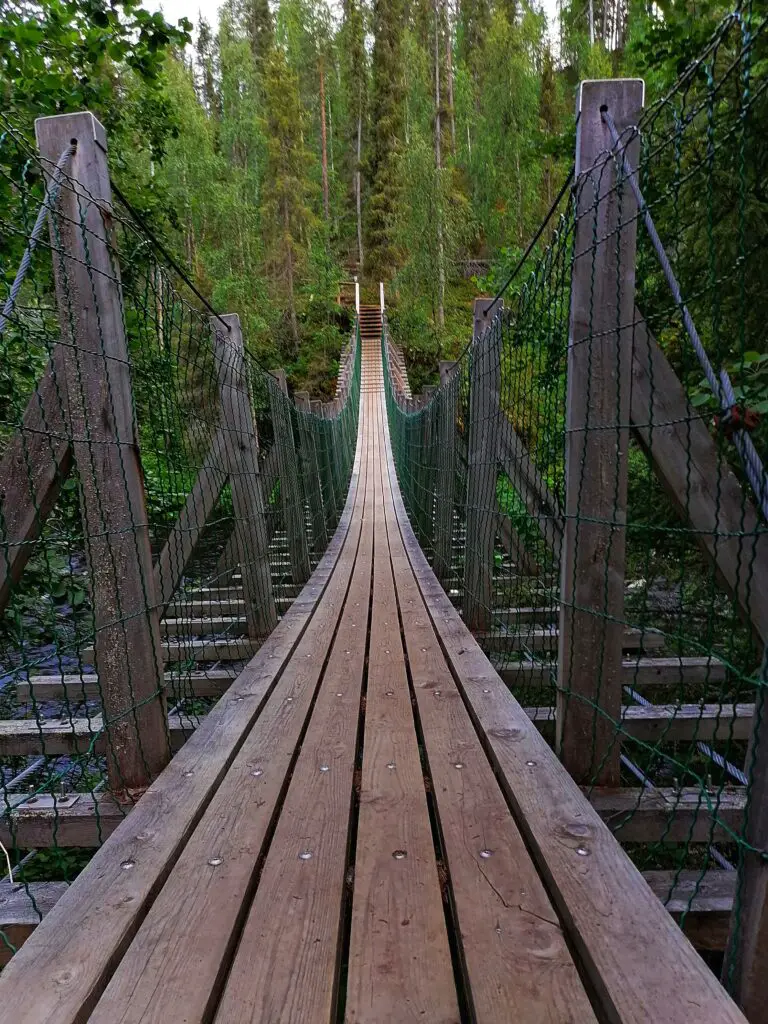 Tailvalköngäs was a magical place with rapids, rocks, and bridges. Initially, I planned to overnight here. Next time 🙂 There is another open wilderness hut that is suitable for up to 15 people.
Ristikallio (detour, about 10 km)
If you are not in a rush, you can walk to Ristikallio and even sleep there. This place is also accessible from a parking lot on road 950, if you would leave it for another time.
Oulanka Visitor Center – Kiutaköngäs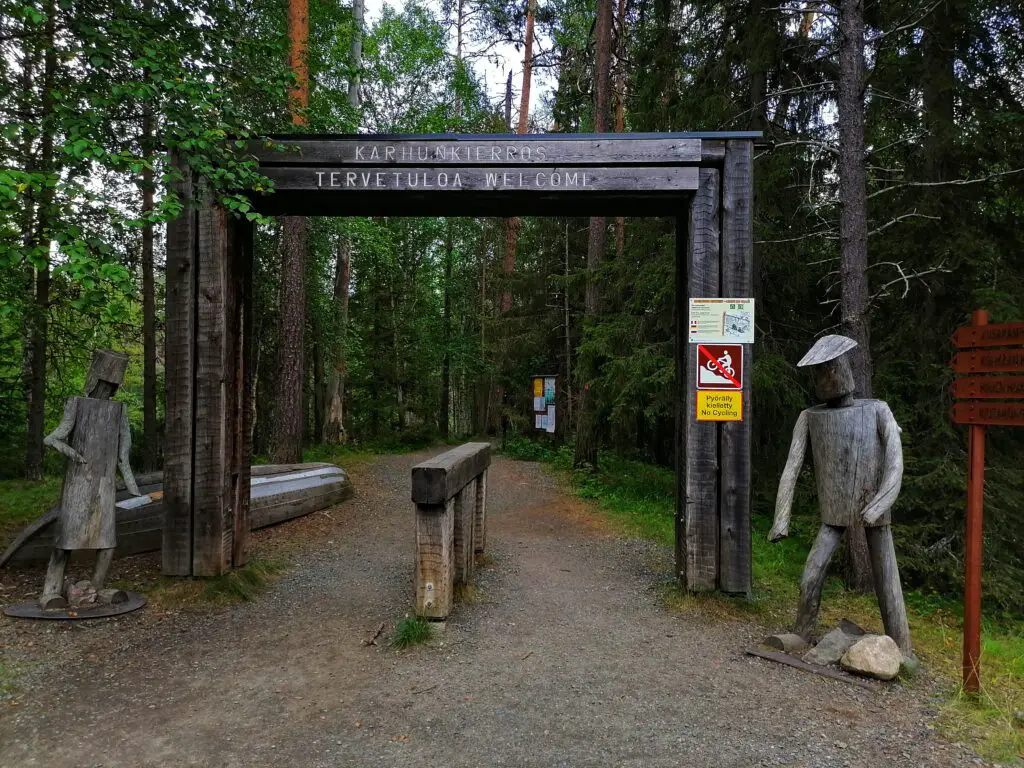 The familiar part of the trail started around the Visitor Center. I have visited Kiutaköngäs several times in different seasons before.
It is a place where you can refill your freshwater supply (tap is outside of the building so that you can use it outside of the opening ours too) or grab some food if you want.
I planned on having their daily soup, but their vegan burger seemed to be a better fit. 🙂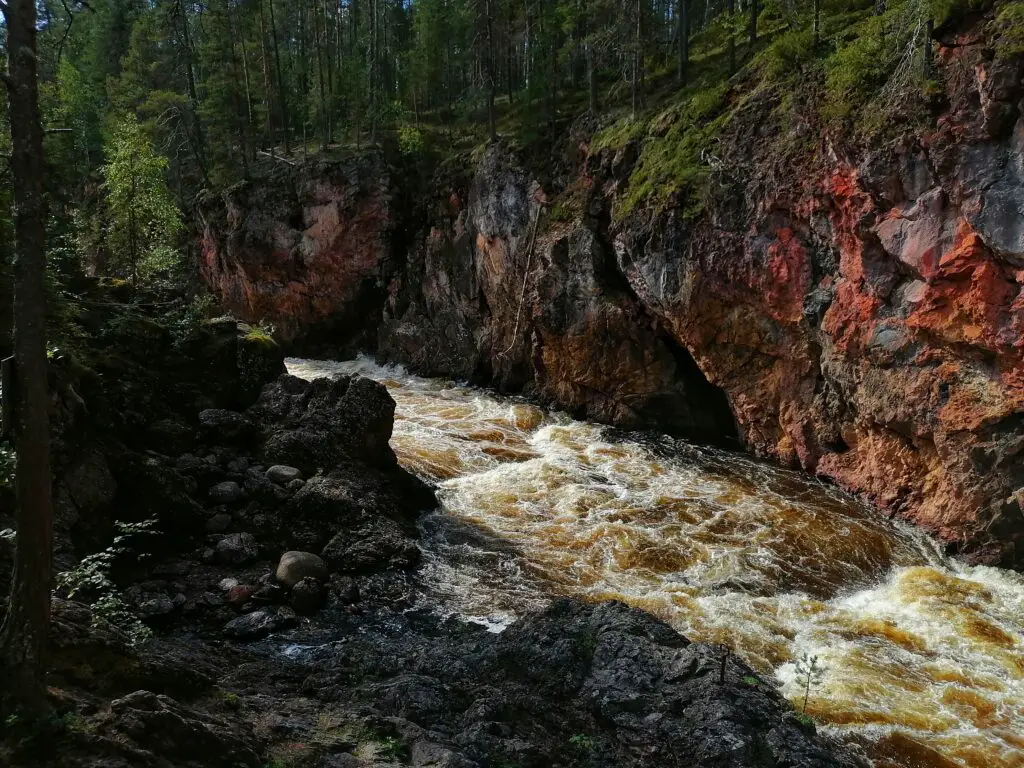 After a bit of rest, I was walking to the rapids and having some more time relaxing on the rock.
A couple of kilometers later, I left the known path, and news, magical views appeared. The trail leads along the Oulankajoki river, on cliffs on your left. A lot of stunning places.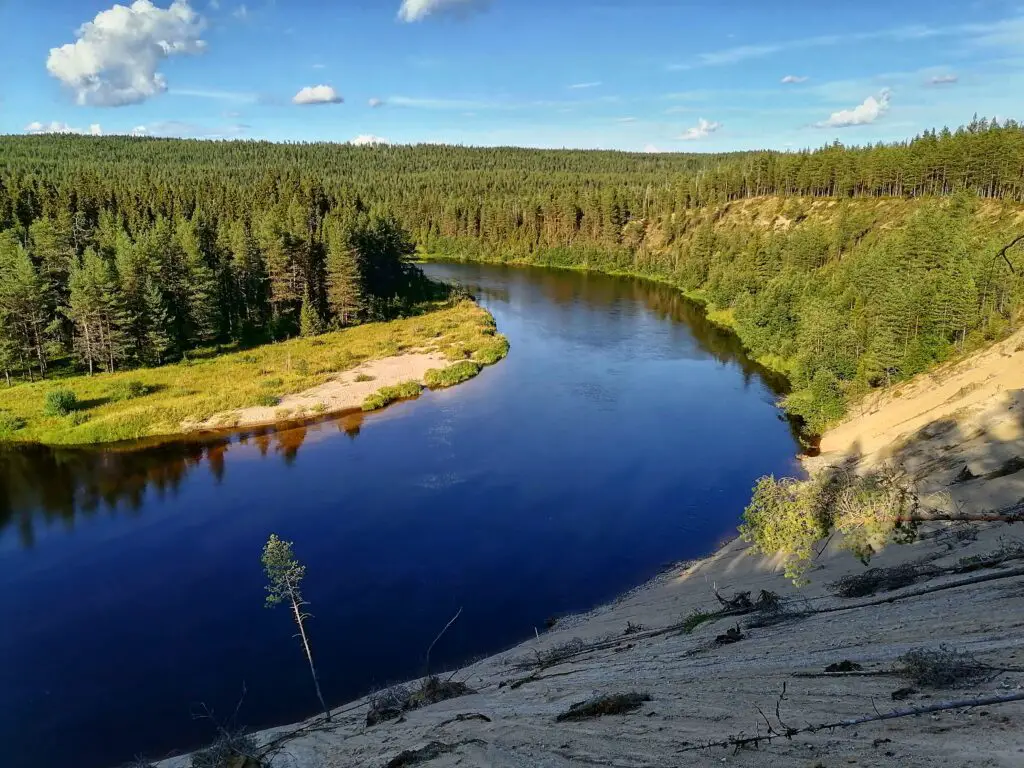 Ansakämppä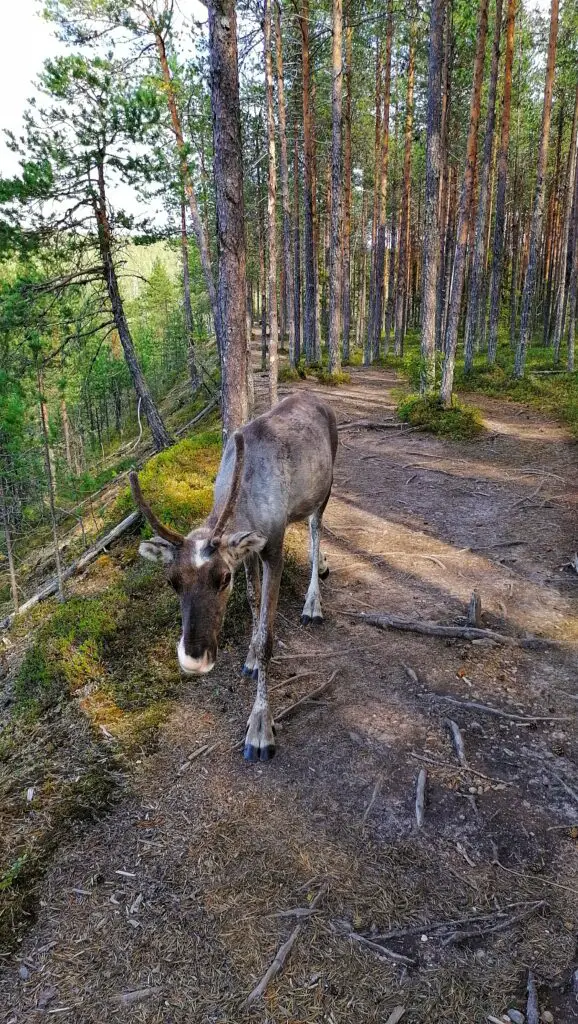 You can either sleep at Ansakämppä (suitable for 20 ppl) near the sandy beaches or climb the next hill (and about 8 km) and on the other side arrive at another stunning place, Jussinkämppä. The latter one was my choice for the day.
Jussinkämppä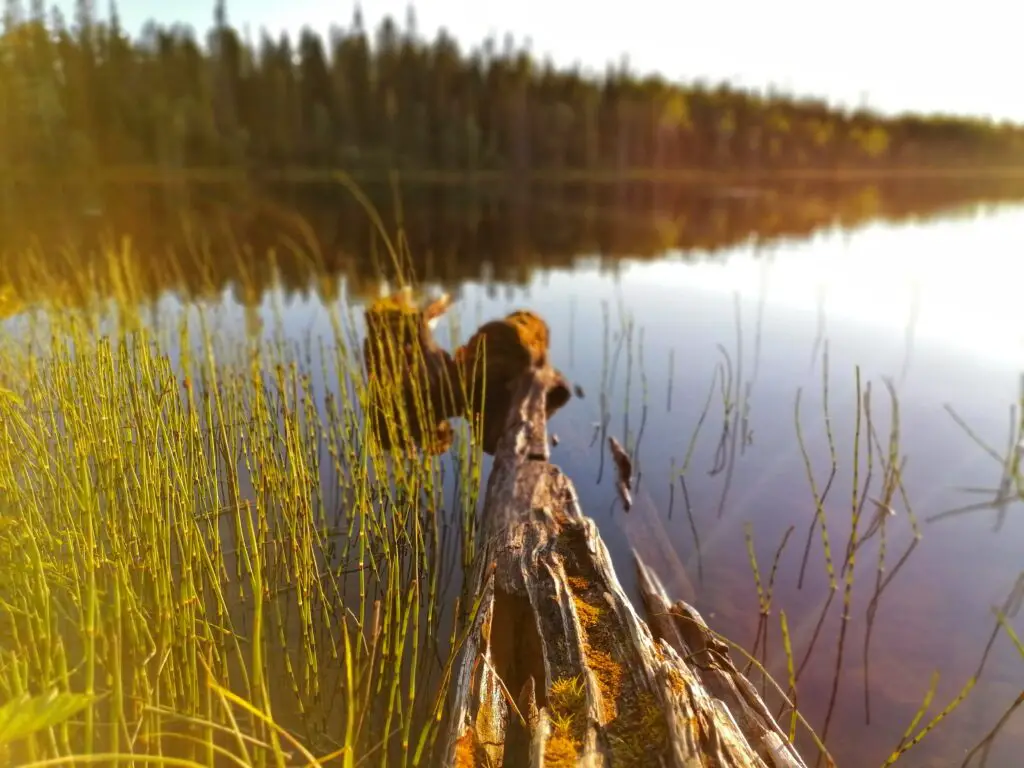 If I can choose a favorite campsite on the whole Karhunkierros trail, it is Jussinkämppä (20 ppl). The gorgeous Kulmakkajärvi is just right next to the hut. Perfect for an evening swim. The evening sun made the place magical. There are several campfire sites outside too. A kota (Lappish hut). Multiple toilets. A gas cooked (like in every cabin).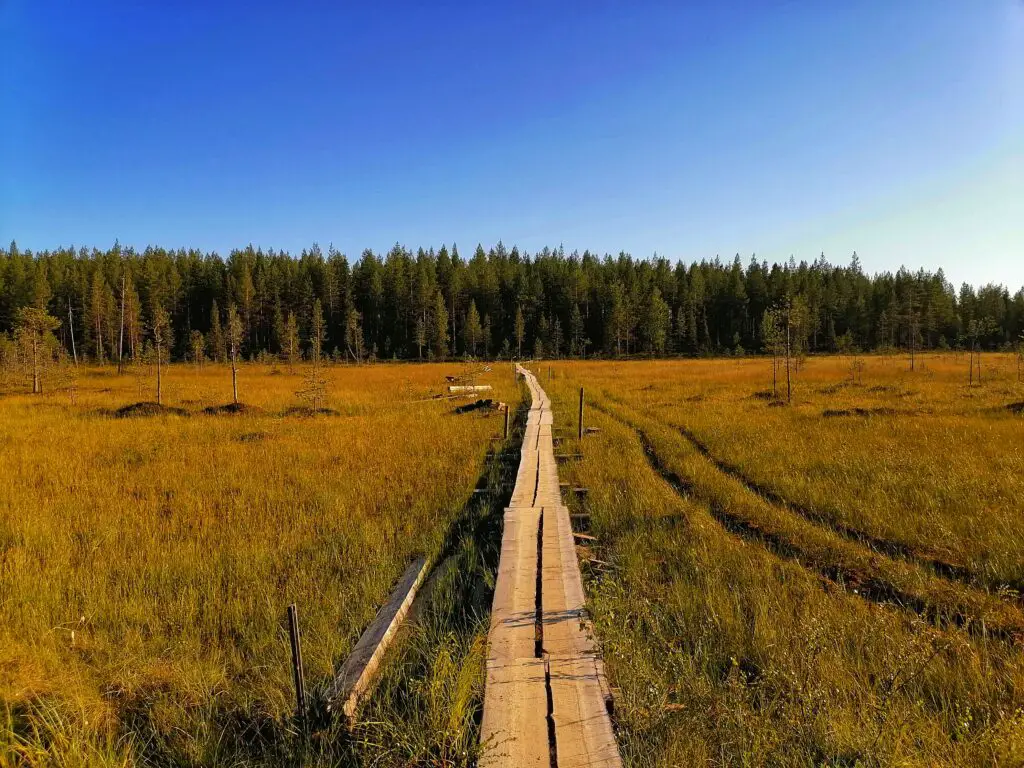 I was very tempted to stay here another day, just to collect blueberries and swim and eat. The only reason that made me going further was a not-so-promising weather forecast for the latter days and my draining battery (as my power bank obviously got broken on this trip).
Day 3. Jussinkämppä – Porontimajoki (22 km)
So it comes to the third day. I continued my way to the south. After crossing some mires and climbing a hill (where the trail was diverted), I have arrived at the shore of Kitkajoki river.
Kitkajoki & Small Bear's Circuit (Pieni Karhunkierros)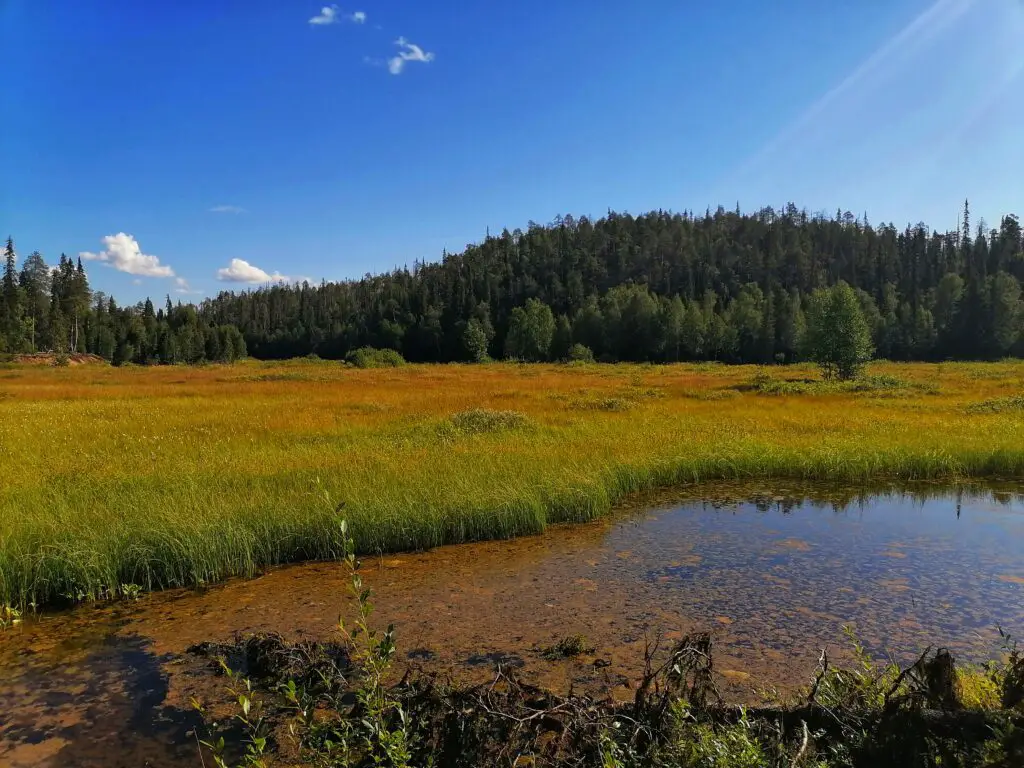 Numerous laavu-s, sunny weather, and fresh river water were running along on my left side while I walked further. I have found some more amazing locations for just day outings, do you agree?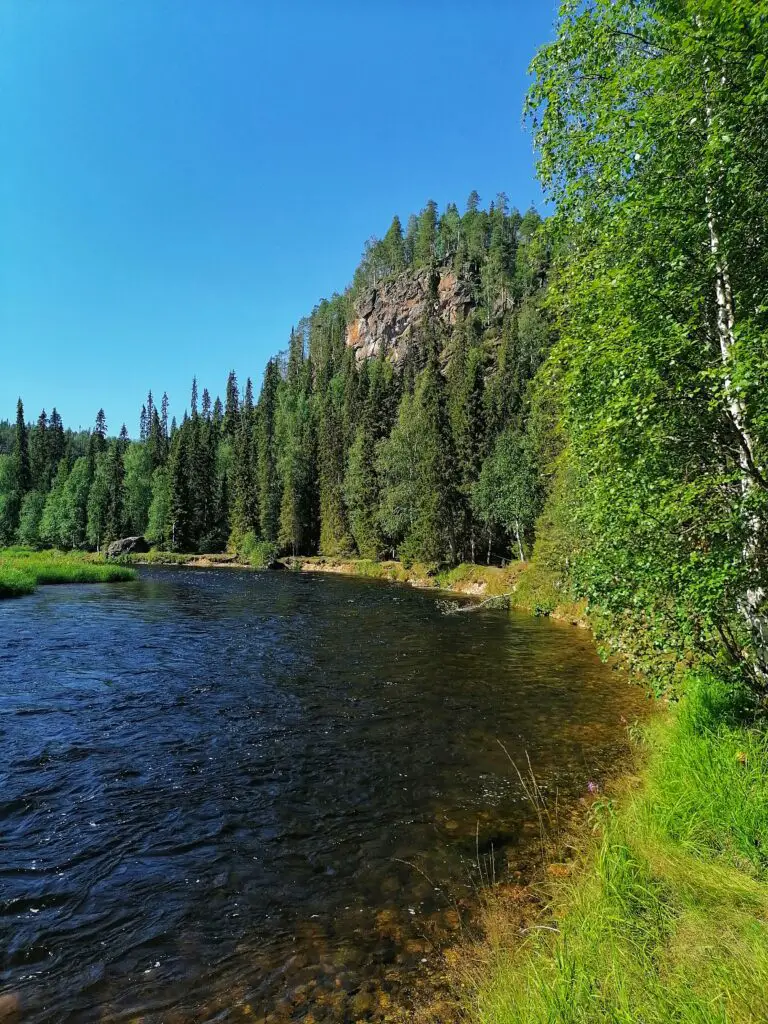 After several kilometers along Kitkajoki, I have again reached familiar places. The earlier mentioned Pieni Karhunkierros (that you can get from Juuma) has a common part with the 'real' Karhunkierros.
Jyrävä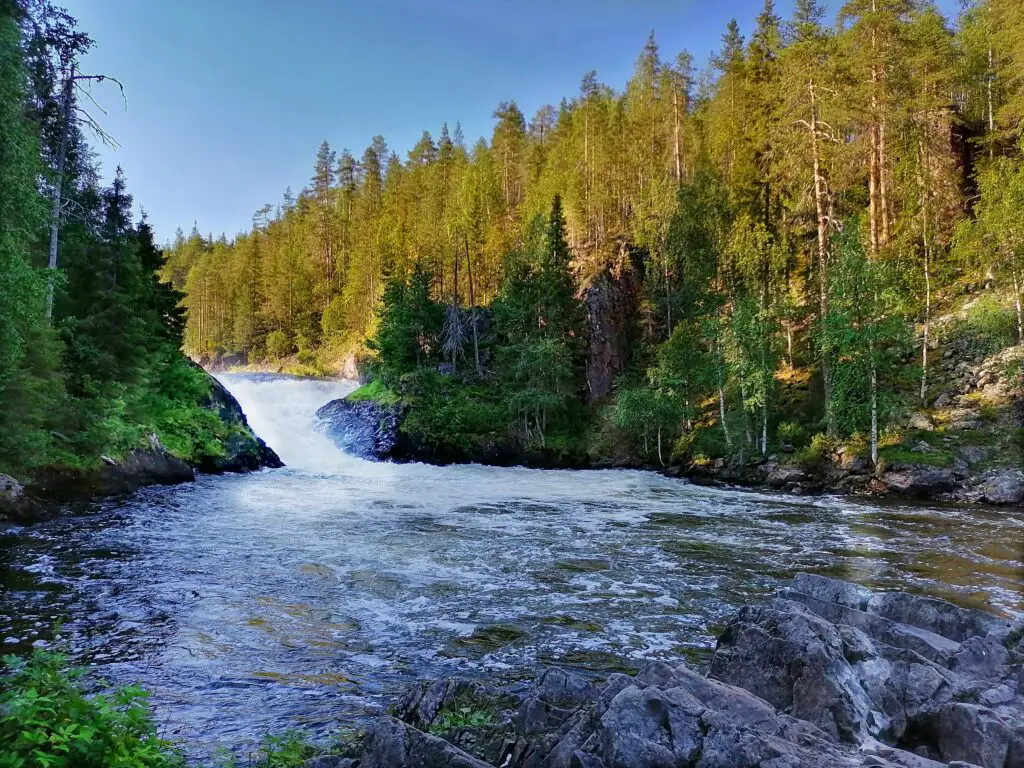 Although the places were known, I did enjoy every part of the trail. I had breaks enjoying the views from the top of the cliffs, and so had I a longer break at Jyrävä rapids (Jyrävänkoski) near Siilastupa. I even had a nap while observing people rafting on the not-so-calm Kitkajoki.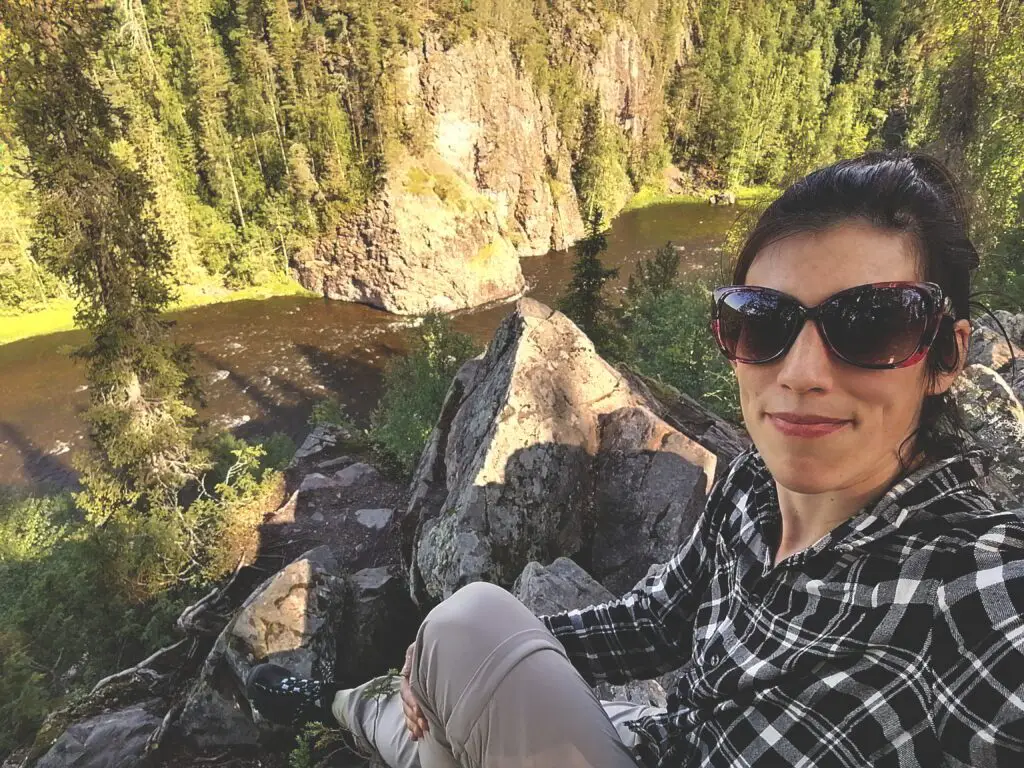 A few kilometers further, I left the Oulanka National Park. Bye-bye cliffs.
Porontimajoki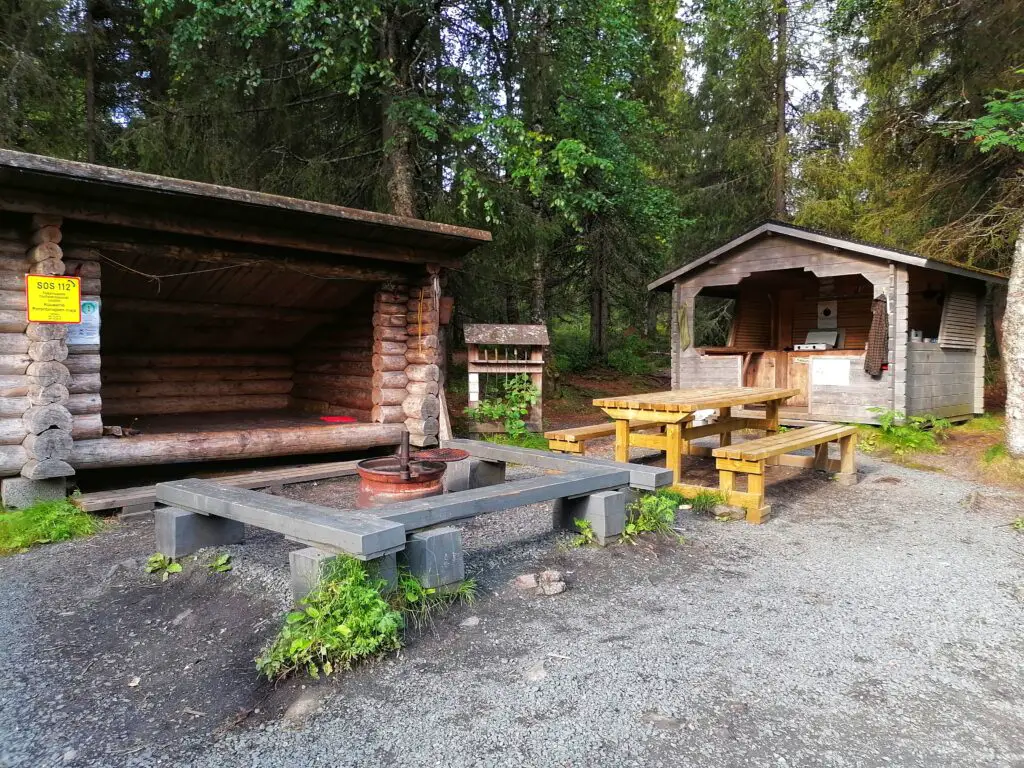 The last couple of kilometers of the trail lead me through mires (and walked on duckboards) and a laavu, before reaching the final stop for the day, Porontimajoki.
The place had two small cabins, altogether suitable for eight people. They have solar charging points for mobile phones, but neither I nor my cabin-mates managed to charge anything with them. (And a huge shoutout to the French girl who let me charge my phone on her power bank! If it weren't for her, you would not see any picture from the fourth day of my trip 😉 )
Day 4. Porontimajoki – Ruka (15 km)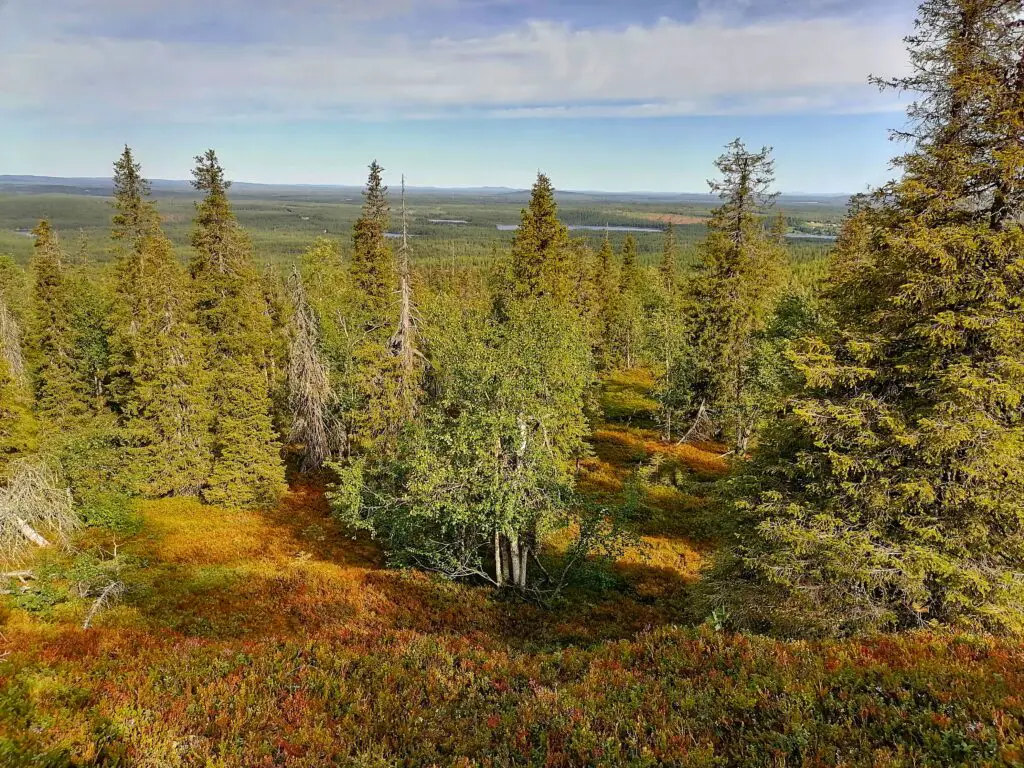 On the last day of the trip, although was outside of Oulanka National Park, it still had stunning views.
After the first 4 km of the hike, I had the first view of the 'end', the Rukatunturi in the far distance, barely visible behind the hill of Valtavaara.
Konttainen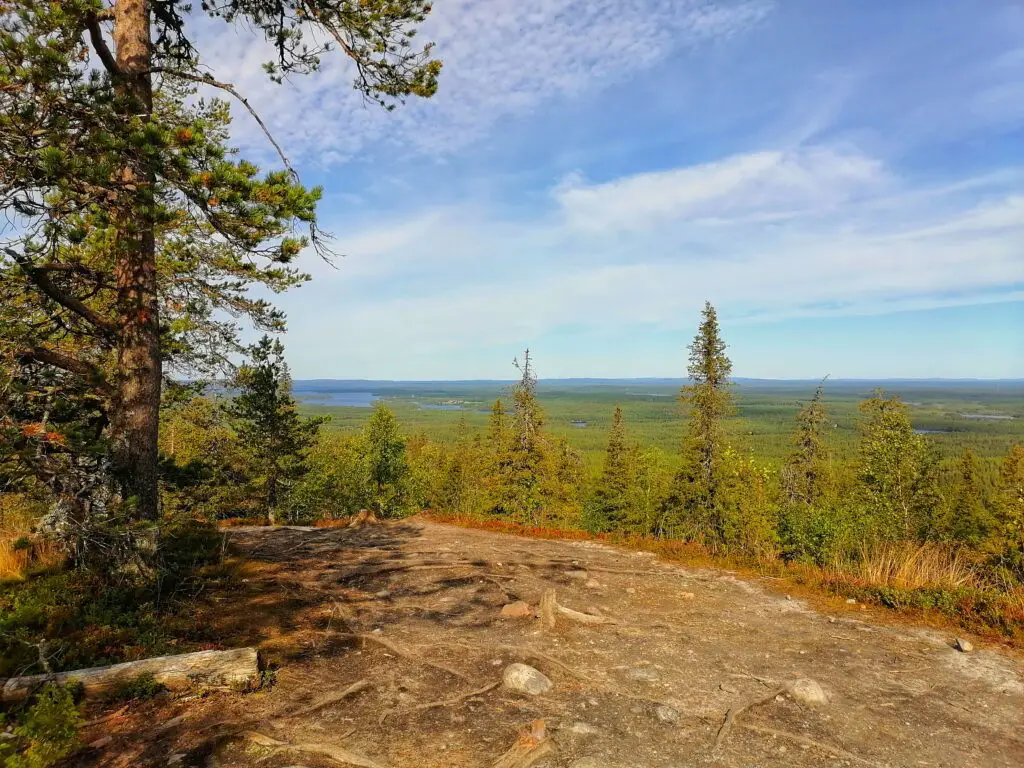 The next 3km lead down and up to Konttainen, an over 300 (?) m tall hill, where I've already been before from the other side. It was surprising how many stairs the trail has – but at least the climb was a lot easier than I expected.
Valtavaara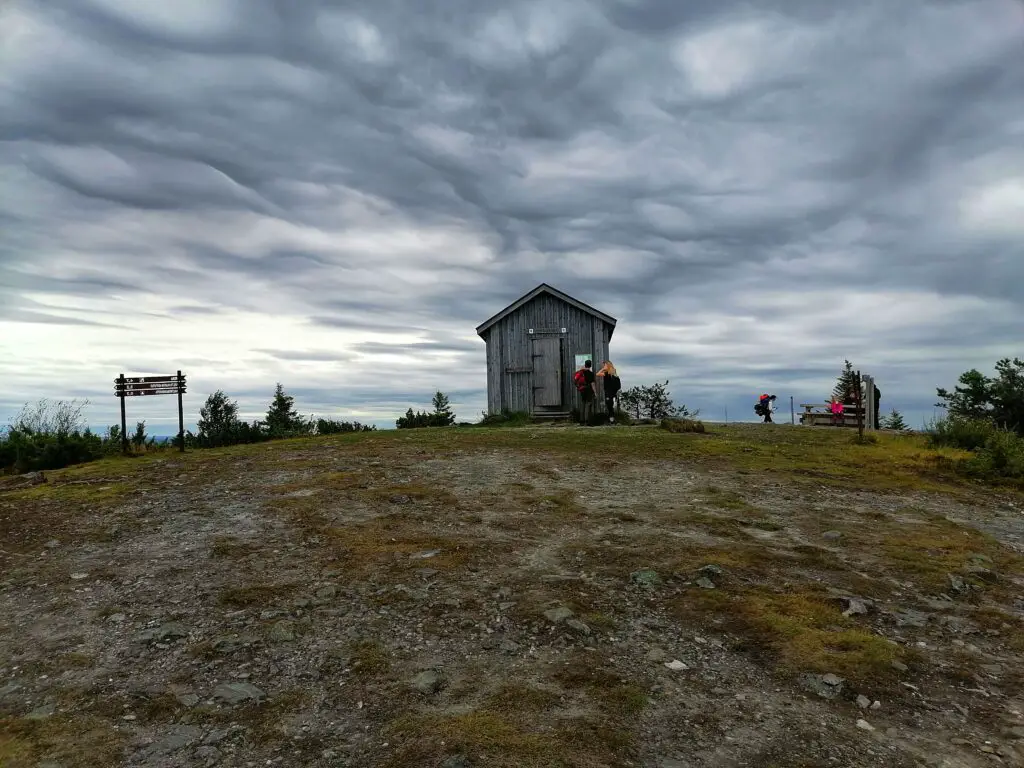 Then smaller hills with more stairs and ropes followed it. After about 4 more kilometers, finally, I was standing again on the top of my beloved hill, Valtavaara. I consider the day hut on the top one of the best-located ones in Finland. I am happy to come here every year (even multiple times), both on skis and on foot.
Rukatunturi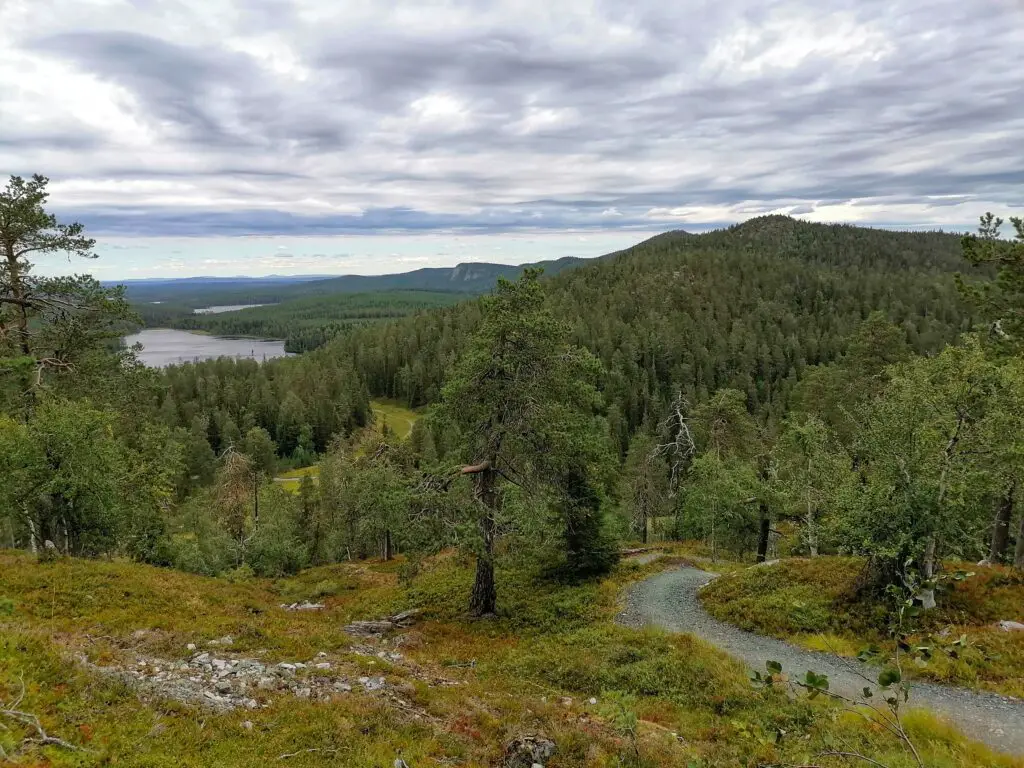 The last 3-4 kilometers had again alternative routing due to trail maintenance. The last climb was to the ski jumping hill part of Ruka, then descending to the trail's end.
82 km (plus some extras). I've done it.
I highly recommend to everyone who loves nature, who loves challenges, who wants to be away from the world for a couple of days or a week.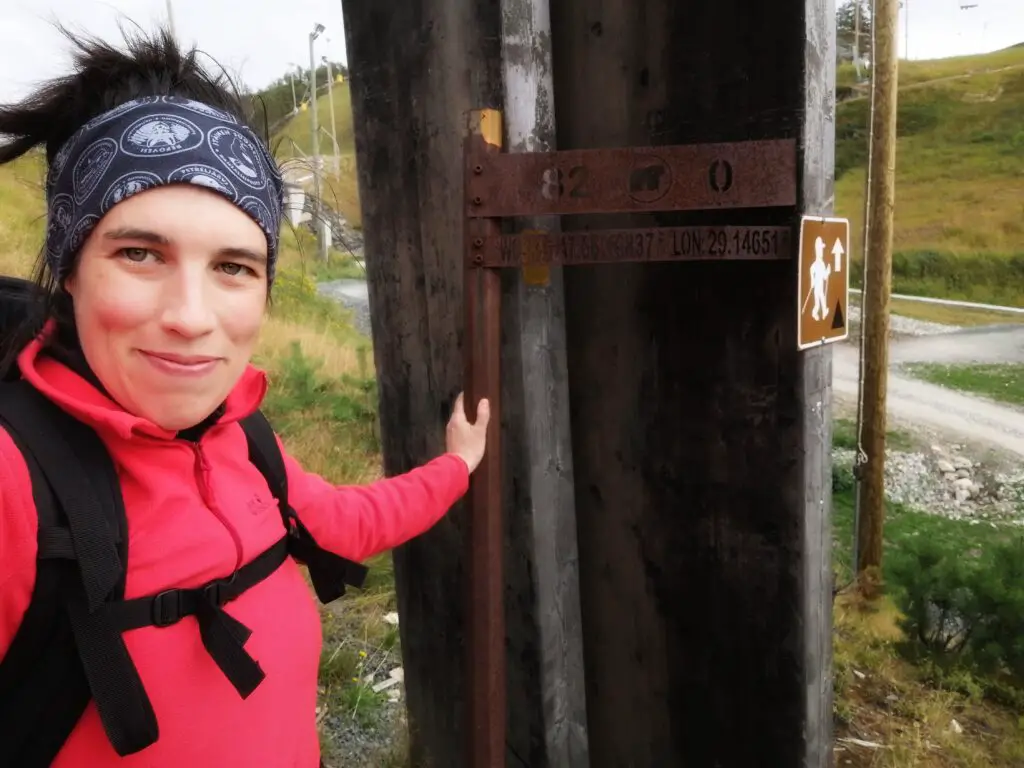 Karhunkierros Practical Info
Water Refill Points:
Hautajärvi Visitor Center
Oulanka Visitor Center, Oulanka Camping
Juuma (the village is out of the trail)
Ruka ( multiple places)
but you can also take river water and boil it before drinking it 🙂
What to take with you for the hike
I have packed enough food for 5 days (vegan options). In the picture, you can see the main part of my gear. I also had a sleeping pad, a sleeping bag, flashlight, toiletries, medicines, emergency kit, etc.
It is recommended to take a gas cooker too (I didn't have it, I relied on the ones supplied by the national park and also used campfires to warm up/cook my meals.