Everyone can enjoy the scenic views of Norway that offer fjords, inlets within the sea, and cliffs. The beauty of these fjords is dreamy. The fjords are attractive tourist destinations for all visitors in Norway.
Let us take you across the best travel destinations and fjords, which will make your day and give you the ultimate traveling experience. But, before heading on to some beautiful fjords, let us understand what Fjord is? 
What is a Fjord? 
A fjord refers to one of the wide inlets of water that run down from the ocean. It also qualifies in the category of deep water. 
 Now, let us seek where these fjords are in Norway! 
Locating the Norwegian Fjords! 
It is necessary to understand the location of these fjords. Many fjords spread across Norway. Therefore, evaluating the best fjords can be confusing. The coastline of Norway is over an area of 18,000 miles which is a lot to explore. By excluding the fjords from these miles, only 1550 miles would be remaining, which is way less than the actual amount with the fjords. 
These fjords offer the most scenic experience. But Geirangerfjord arguably is one of the most beautiful fjords that exist in Norway. 
Yes, ranking these fjords is a difficult challenge, but here are the top 10 beautiful fjords which are a must-visit! 
When to Visit Norwegian Fjords?
The best time to visit the fjords in Norway is summer if you seek a hiking adventure. May onwards there is less and less snow covering the neighboring mountains. If you can pick a time, June or July some of the best times. This period of time is the sunniest, least rainy and the snow cover is also minimal.
If you are into photography, autumn and winter are great seasons too. And don't forget the magical northern lights which you can see dancing over the fjords from mid-September to mid-April.
Top 10 Fjords in Norway! 
 Geirangerfjord 
On number one, we have the most appealing fjord, which is Geirangerfjord. 
Geirangerfjord is one of the most famous fjords in Norway. It is also a sub-branch of Storfjord, which is popular for the steep sides and crystal clear waterfalls. The scenic view of Geirangerfjord is worth experiencing as the water is blue, and the area is surrounded by green cliffs. The overall impact of Geirangerfjord is greater than any other fjord in Norway.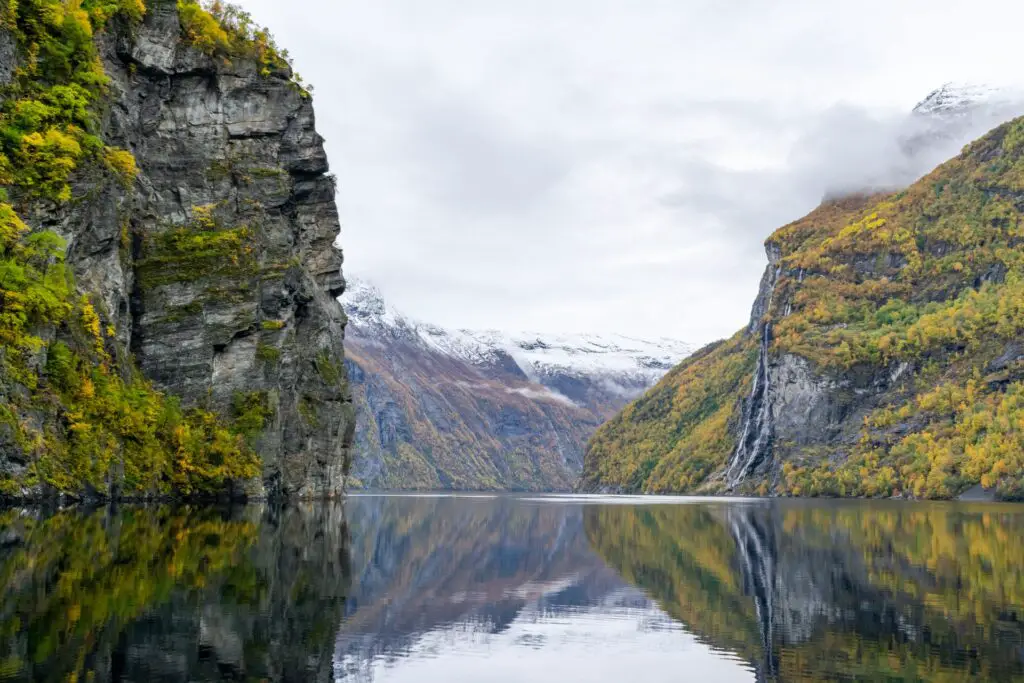 Did you know? 
Geirangerfjord was declared as a heritage site in 2005 by UNESCO. It comes across 15 km in length. It is also 1.5 km wide. The best thing about this fjord is that it offers an ample amount of waterfalls, and The seven sisters are the most popular among all of the waterfalls. Geirangerfjord also consists of a small village with a population of only 250 people. Wow! Now, that is interesting. 
Let us have a look at the next fjord on our list, which is Naeroyjfords. 
Naeroyfjord 
Many people like to explore Naeroyfjord along with Aurlandsfjord because they are one of the classical tour packages. This trip takes around two hours. These spots are famous for recreational activities, and the place is full of tourists. It is a crowded place, and you won't find a free space in the peak season when everyone wants to visualize and explore the beauty of Naeroyfjord. However, this fjord doesn't offer many spots to stay and enjoy nature. 
But, if you find a space to stay, you will admire each element of this wonderful place. 
Did you know? Naeroyfjord is one of the narrowest fjords, and it is only 250 meters wide. However, the length of this fjord is around 18 Km. On the road to the heavily snow-capped mountains, a spectrum of waterfalls can be seen. The narrow passages of the fjord can be witnessed by boat trips. 
Well, our next fjord is Aurlandsfjord. 
Aurlandsfjord
On number 3, we have Aurlandsfjord, which comes with exceptional beauty and scenic views. This fjord is also a part of the largest fjords. The fjord is also listed by UNESCO as a world's heritage. 
The only problem with these places is over-tourism which leads to a great crowd. However, the government is taking action to minimize this impact. The best thing about Aurlandsfjord is that it offers still blue water, which is surrounded by heavenly mountains. It feels like you are visualizing a fairy tale, or you are in a wonderland as the beauty and nature are so vivid. 
Now, let us find out about Lysefjord. 
Lysefjord
Lysefjord is located in the South of Norway, and the views from this cliff are breathtaking, and none can compete with this scenic view. The name is designated due to the famous light granite cliffs. 
Lysefjord comes with an exceptional staircase that qualifies as the largest staircase in the world. It has 4,444 steps, and one needs to go through so many steps to reach the top of the cliff. Most of the visitors like to visit this spot on a cruise ship, or you can climb up your way if you want to experience the ultimate hiking experience. 
Did you know? Lysefjord fjord facts!
Lysefjord is where the worldwide famous Pulpit rock is, and it is located 1982 ft above sea level. Yes, visiting Lysefjord can be a lifetime and extravagant experience. The hiking may take up to two hours, but the struggle is worth it. 
The other spectacular sight of the fjord is Kjerag on the other side of Lysefjord. The rounded rock is stuck between rock walls and can be reached by a longer hike, either from Lysebotn or from the visitor center along the road.
On number 5, we have Trollfjord. 
Trollfjord
Trollfjord is 1.5 miles in length, and it is a narrow fjord that comes from the Lofoten islands. The entrance is narrow, along with steep mountainsides. Usually, the Hurtigruten ships are responsible for taking the passengers from one place to another. This ship is huge, and most of the passengers are surprised to see such a huge ship passing from a narrow entrance. The sea is also full of white eagles that can appear now and then. The best time to visit this fjord is in the daytime as the journey may be dangerous due to the narrow entrance. You can even choose to travel on small boats which are available from Svolvaer. 
Did you know?
Trollfjord is one of the narrowest fjords at 2 km. It is located in Norway's Arctic circle. Well, it is up to you whether you go on a cruise trip or you want to carry on with hiking.  
Now, let's look at the sixth fjord, which is Hardangerfjord. 
Hardangerfjord
The best thing about Hardangerfjord is that it can be explored by car. The area besides Hardangerfjord is surrounded by roads, and this gives an amazing attraction to the visitors. The natural beauty is worth a visit. 
This fjord also comes with various hiking opportunities that the visitors will truly admire the beauty of Hardangerfjord. 
While visiting Hardangerfjord, one can come across Sorfjord, which offers a different scenic beauty. You can relax in this spot for a couple of days which will freshen up your mind. 
Our next destination is Sognefjord. 
Sognefjord
Sognefjord is one of the beautiful sites. This place offers great relaxing spots, and it comes with a natural landscape that makes you feel fresh. The length of Sognefjord is 205 km long, which is an accessible distance by car. You can even explore Sognefjord by public transport (Ferry service). 
Did you know? Naeroyfjord is one of the branches of Sognefjord. There are twelve sub-streams of Sognefjord, which are as follows:
● Lifjorden 
● Arnafjord 
● Lustrafjord 
The last inlet mainly connects Jotunheimen (The most famous national park). 
Our next destination is Northford. 
Nordford
Nordford is located in between Storfjord and Sognefjord. However, Nordford is the best cruise ship destination. Northford passes the wildest coastline. It covers a wide range of mountains, glaciers, and valleys, which looks phenomenal. 
Here the most trending activities are cycling and hiking. Northford also comes with a small village called Olden. Yes, very few people live here, but it has some beautiful churches, which is the best attraction one can experience. 
This village acts as a base to reach the Briskal glacier. You can travel by bus although most people have their arrangements to travel over here. 
After reaching the lodge, one can easily reach the glacier, which is 3 km away. It also comes with different waterfalls. Leon is also another attraction here which comes with beautiful lakes and mountains. 
On number 9, we have Hjorundfjord. 
Hjorundfjord
Hjorundfjord is one of the most accessible locations. You can explore different elements, including mountains and towns. If you are visiting Alesund, then don't forget to visit Hjorundfjord, which is nearby. The place consists of an alpine backdrop which looks wonderful. European royalty also visited this place, and it is called the Royal Route. 
There are some great hiking bases in this area which are as follows:
● Ostra 
● Volda 
● Stranda 
The last destination is Oslofjord. 
Oslofjord
If you are planning a trip to Oslo then, you can also plan a visit to Oslofjord, which will give a wide perspective of the lifestyle of the Norwegian people. It will be a great experience.
Verdens Ende lays at the other end of Oslofjord. A perfect location for a day trip from Oslo for everyone.
Final Verdict! 
You can choose any of these destinations as every destination has some breathtaking scenic views. You can travel to these areas without any hassle because all places have security and ambulances on standby which can save anyone in trouble. You can easily travel from one place to another place by cruise ship, which will take you across many destinations with the best ambiance. 
You can also come across beautiful animals, glaciers, and cliffs, which will be a life-changing and ultimate experience. Have a great time hiking and cruising!